To be honest, there weren't a lot of great shows introduce
d
th
is year. Still, there were a few new standouts, and some great seasons of returning shows:


10)
Aliens in America
-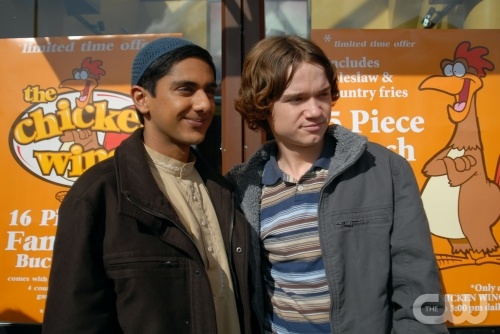 The conceit of this show, about a foreign exc
hange student fro
m Pakistan, is a
recipe
for clich
es about American xenop
hobia.
Fortunately, there's a lot o
f heart on display in
Aliens in America

, and while it may be a bit too cute for its own good at times, it's also surpris
ingly smart and funny when dealing with the culture clash and general open-
mindedness of the American people.


9)

Big Love -
This y
ear
, the HBO polygamist saga made the transition
from gimmicky drama with occasional
moments
of brilliance to captivating series about a tension-filled family that happens to practice polygamy. Superb performances from Jeanne Tripplehorn, Ginnifer Goodwin and Chloe Sevigny helped propel this year's storylines to a higher level.
8)

Top Chef

-
This

Project Runway

-esque reality series really
came into its own this season, with some ve
ry talented and compelling contestants, most of all eventual winner Hung. Unlike many of its contestants, the show succeeded on its t
ruly creative challenges.

Top Chef
has slowly slid itself into the position of best reality series on television.

7)

The Sopranos -
Count me as one of those viewers who thought the finale worked. More than that
, though, the series experienced a comeback of sorts wit
h its final 6 episodes, from the masterful brawl between Bobby and Tony at the lake house to AJ's
suicide attempt.

The Sopranos

may have gone out on a lower note than it entered, but it was still amazing television.
6)

Planet Earth -
The amazing footage that appeared on this se
ries of animals caught in their
natural environme
nts singlehandedly forced
me to go out and buy an HDTV.

5)

Pushing Daisies -
Yes, this show can be too whimsical for its own good. But it has also managed to create an entirely believable universe of its own, w
here corpses are brought to life with the touch of a fingertip and the
streets are decorated with mor
e bright colors than a candy store. It's an impressive visual accom
plishment and a surprisingly addictive television series.


4)

Mad Men -
Leaving aside the fact that one of the primary plot points was a direct rip-off of the Armen Tanzarian storyline from

The Simpsons

, the first original series from AMC was filled with gorgeous images, well-crafted character arcs, and touching performances. Some of the plot turns may have been a bit too forced, but the exec
ution was impeccable and the acting first rate.


3)
Friday Night Lights -
This show makes the list on the merits of its incredible first season. There has been an undeniable decline in its second season, but that's no reason to avoid this pitch-perfect series about a small Texas town that finds its soul in high school football. Connie Britton and K
yle Chandler make f
or the most realistic couple on television; after a few episodes, you too will wish you were a member of the Taylor family.


2)
30 Rock -
The best comedy on network television since

Arrested Development

. Like that show,

30 Rock

boasts an incredible cast, superb writing, and wonderfully absurd storylines. It also boasts Alec Baldwin, who singlehandedly elevates every scene he's in with his dry delivery and perfect comic timing. I'm not sure how long the ratings will allow

30 Rock

to be on the air, but this series deserves all the viewers it can get.


1)
Flight of the Conchords -
I don't know that

Flight of the Conchords

is a funnier show than

30 Rock

. But it's the most original and creative comedy on television, mining the humor of New Zealand's most famous comedy rock troupe to maximal effect with fantastically weird musical set-pieces and low-key, perfectly deadpan punch lines. Murray the manager (Rhys Darby) alone makes this show worth watching.