I saw a lot of films this year but ultimately I found 2011 to offer a relatively meager selection of good movies. I failed to warm to Terrence Malick's
Tree of Life
the way others have (I'm still not sure what that movie is about) and actually didn't find my favorite film of the year until I saw it a week ago. But if I struggled to find movies I loved, there were plenty I liked and a few I was fond of even if they were imperfect (Kenneth Lonergan's
Margaret
is a good example). Below are my favorite films of 2011:
10) Melancholia
Lars Von Trier's latest is a story about the end of the world and, more disturbingly, what it feels like to think the world is ending. As with all of Von Trier's films, the themes are not particularly life-affirming, but the technical mastery is top-notch and this time around the aesthetics are beautiful. In chronicling one woman's (a marvelous Kirsten Dunst) depression, Von Trier's has found a natural vessel for his characteristic misanthropy. And yet, the film leaves a mark more triumphant than pessimistic -- you leave the theater much happier than any of the film's characters.
9) Contagion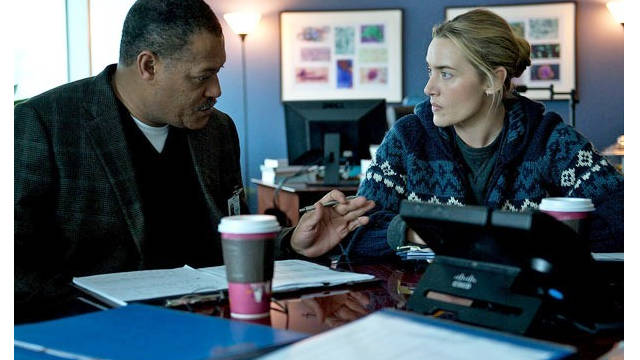 Director Steven Soderbergh looks at the spread of a viral pandemic with an appropriately clinical eye, giving equal attention to the ensuing hysteria and the work of managing it and finding a cure. The scenario is terrifying -- you'll never look at the spread of germs the same way -- which only makes the resolution all the more exhilarating. With an excellent ensemble led by Kate Winslet, as a CDC agent managing the response, and Jennifer Ehle, as the researcher who finds the cure, Contagion interweaves a variety of stories about the impact of the virus, and while some are markedly more effective than others, the film as whole is at once harrowing and thrilling.
8) Margin Call
JC Chandor's debut film is surprisingly compelling for how much of the movie is just talk. Set in the New York offices of an investment firm on the eve of the financial crisis, Margin Call tells the story of the crisis from the eyes of the bankers and analysts who were responsible for it. But the film is more Mamet than Wall Street -- Chandor is less interested in the details of what happened than in the underlying motivations and emotions that make these men (and one woman) tick. With a stellar cast led by Kevin Spacey and Zachary Quinto, Margin Call is a small movie that makes a big impression.
7) Take Shelter
About 98% of Take Shelter is fantastic. And then that last 2% is...frustrating, but I'll get to that later. In Jeff Nichols' haunting film, Michael Shannon plays Curtis, a man who starts having apocalyptic visions and begins mortgaging his financial well-being to prepare for their potential fruition. As his neighbors and eventually his wife (Jessica Chastain) start worrying for his mental health, Curtis continues his mission unabated, walking ever so dangerously on the edge of sanity and financial ruin. Take Shelter is fascinating as blue collar allegory of our modern day depression -- the paycheck to paycheck living that leaves everyone vulnerable. And it's also a searing portrait of obsession, as Shannon gives an indelible performance as a man committed to protecting his family in the face of unbelievable visions. I didn't love the ending because I found it unnecessary, but it's in keeping with movie's ongoing suggestion that modern living is far more precarious than we realize.
6) Bridesmaids
The best comedy of the year, Paul Feig's Bridesmaids is an uproariously funny story of Annie (Kristen Wiig) and her ongoing failures at being a good maid of honor to her best friend (Maya Rudolph). More impressively, the film is also emotionally honest, capturing not just the hilarity but the real life anxiety, insecurity, and competitiveness that all thirty-somethings feel as they watch their friends move to different stages of life. But ultimately it's the funny moments that make this film great -- the dressing room scene alone would have earned Bridesmaids a spot on my list.
5) Martha Marcy May Marlene
The most impressive debut of the year, Sean Durkin's psychological thriller about a young woman named Martha (Elizabeth Olsen, in a breakthrough performance) who escapes a cult is an ingenious exercise in structure and form -- Durkin keeps his audience in a state of anxiety similar to Martha's, as both what she experiences and what we see remain slightly off-kilter. In flashbacks to Martha's time under the spell of her cult leader (John Hawkes), we see the root of her unease and the seductive nature of his charm. And by the end of the movie, we realize Durkin has cast a spell of his own.
4) The Interrupters
The best documentary of the year, Steve James' The Interrupters follows members of Chicago's CeaseFire, a group of ex-cons and former gang members who try to interrupt urban violence before it claims lives and escalates into street warfare. James, as he did in Hoop Dreams, shows admirable restraint with his camera and is rewarded for his patience -- the footage he gets is both gripping and eye-opening. What he captures is the systemic nature of the causes of urban violence -- the culture and situations that lead to unnecessary deaths and urban decay. But The Interrupters is important not only for its lens on our society's problems, but also for its focus on the many reformers who have escaped past mistakes to lead lives of incredible integrity and courage. They may be fighting an unwinnable war, but the violence interrupters offer inspiration in every battle they fight.
3) Hugo
Martin Scorsese's tribute to the cinema of yesteryear is disguised as a children's tale about an orphan living in a Paris train station, but don't let that fool you -- Hugo is about much more than the adventures of a child. Rather, Scorsese uses Hugo's story as an entryway to tell the fascinating tale of film pioneer Georges Méliès (Ben Kingsley), who in old age is forced to work at the same Paris train station that houses the story's titular character. It's only appropriate that Scorsese uses this story, about a cinematic innovator, to pursue his own experiments in innovation -- Hugo is notable not only for its lovely story, but also its subtle and effective use of 3D, which is put to better use here than it has been since Avatar.
2) Certified Copy
At the start of acclaimed Iranian filmmaker Abbas Kiarostami's latest film, we watch an art historian (William Shimmel) take a seemingly innocent trip with a Frenchwoman (Juliette Binoche) who appears to be a fan of his work. But over the next two hours, the relationship starts to evolve and change in ways that are bewildering and fascinating, and it becomes clear that Certified Copy is a relationship drama where the central question is about the relationship -- is it old or is it new, is it significant or is it all just a game? Certified Copy suggests that whether real or fake, a genuine article or an artificial copy, the emotions and memories can be resonant and meaningful in any case.
1) A Separation
I didn't anticipate that my two favorite films of the year would be foreign ones (let alone both by Iranian directors!), but when I saw A Separation last week, I knew it was my favorite film of the year. Asghar Farhadi's domestic drama initially appears to be about an Iranian couple's impending divorce, but it soon turns into a much bigger tale about the impact of that separation -- on the care of the elderly, on the well-being of the children, on the couple's status under the law and in their community. By constantly shifting the perspective and withholding just enough information to make the audience feel secure in their judgment, Farhadi undermines expectations and lets sympathies shift so that by the end everyone and everything we've seen is clouded in ambiguity -- just like life itself. A Separation is a remarkable feat of storytelling and the best film of the year.